Meet Dan Karns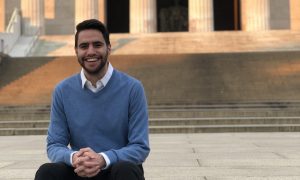 We had the opportunity to catch up with one of DCA's 2019-2020 alumni, DK. He shared profound thoughts on overcoming difficulty through prayer, his love of long-distance running, and what the Dream is. We hope you enjoyed the conversation as much as we did!
1. Who is DK?
I was born and raised in a small border town in south Texas before spending some time in a small town in New Mexico. To be true to my Texan roots, I went back to Texas to attend Baylor University to study economics, classical literature, and political theory. I moved to DC right after graduating in 2018 and have been working as a program coordinator for IHS at George Mason University. I have been a long distance runner for quite some time and cherish time I get to spend with solid friends. Some of my favorite activities include reading, cheering on Baylor teams, and staying active in the outdoors. Space Jam is on my list of top five movies ever.
2. Favorite quote:
Proverbs 20:5 "The purpose of a man's heart is like deep water, but a man of understanding will draw it out."
This verse reminds me that God has placed so much in the hearts of each of us that He invites us to explore it with Him. We have the opportunity every day to discover something new and devote ourselves to becoming our best selves. Even on the bad days where we feel like nothing adds up, our purpose still runs deeper. We are sons and daughter of God, so we must strive to become sons and daughters of God. It's this life-long adventure of continually digging deeper and learning about our purpose in the world and how we are too accomplish it. As the verse implies, it takes effort, patience, and practiced wisdom to draw the deeper things out.
3. When faced with difficult times/lose focus in your personal & professional life, how do you reset and move forward?
This is a great question, especially since these last two months have felt this way for me…so I will talk about what I have done now. I have had to pray fervently and consistently. It came down to unpacking the loss of focus and understanding the issue and continually asking why to trace it back to root causes. Once I got there, the focus shifted to building where I am and writing down micro goals each day that I had to do no matter what.
4. What is one book or thought leader that has impacted you over the past year and how?
I have been reading Clayton Christensen lately and have absolutely been loving everything he writes about innovation, managing yourself, and continually adapting to find further success. He applies business theory and management theory to form practical wisdom for governing yourself better. I see my life as my own start-up company and concepts like resource allocation, disruption, and innovation are as true in business as in life, which is the language he writes in. He reminds me a lot of a modern Adam Smith, who is one of the best personal development gurus for his work in Theory of Moral Sentiments. His work has encouraged me to really understand how to measure success and use the power of innovation to position myself for it best.
5. What skill/habit/hobby have you learned over the past 5 years that has improved your life and others could benefit from?
I have been running long-distance for a while now and I think it's the best type of therapy around. Its much more mental than physical. Within the tyranny of comfort and convenience, this is my way of creating my own inconvenience and really pushing boundaries both physically and mentally. You have to do something that inconveniences you in a significant way every day. I have also been journaling. Some days it's just a sentence but other days it's a couple of pages. Again, the heart is a complicated territory and when the Proverbs talks about guarding your heart, it implies understanding the lay of the land. I haven't been good at emotional intelligence so this is my way of improving that.
6. What is the dream?
It's not super clear what I want my life to be, but I am thinking of Steve Prefontaine's quote about never sacrificing gifts. I hope I leave no stone unturned and know that I spent everything I had. The dream is to be a faithful and obedient steward of everything God has given, to be good soil for the seed of the Gospel. Professionally, the dream right now is to restore human dignity back into the fields of economics, politics, and philosophy through coordinating and promoting good scholarship in academia. Broadly, restoring human dignity in all fields of society is the dream. Eventually being able to mentor and pour into people is also part of the dream.